Materials
The materials meet the European standards, they are in accordance with the European REACh (Registration, Evalution and Authorisation of Chemicals) norm. We took a lot of time and energy in the R&D of all our products. Only with the best materials we can guarantee the quality that you as a client can expect of us.
For the Super Silent Air Tracks Pro we use the so called Double Wall Fabric (DWF) of Heytex in Germany. This is an innovative material that consists of a three dimensional woven structure. Lots of thin threads are keeping the top and bottom side together. Because of the quantity of all the threads a 100% flat and stable track is created. Therefore the amount of injuries decreases significantly. The Super Silent Air Tracks Pro are completely welded and are therefore nearly airtight.
The material meets the European standards, according to the European REACh norm (registration, evaluation and autorisation of chemicals).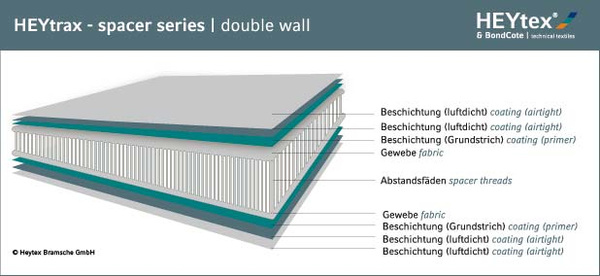 Also with our other products we only use the best available materials and we take care of a well-controlled production process.
​
Do you want personal advise or do you have other questions?
Call or e-mail us today. We love to discuss the possibilities with you.